Photo of the Week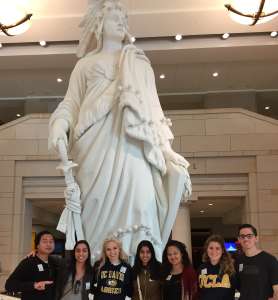 The tour of the Capitol in the Capital was Captivating!
April West, UC Davis
Click to view more photos.
UCDC Goes to the Vice Presidential Debate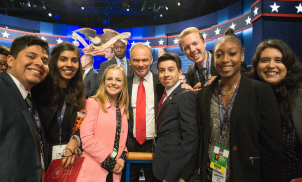 Eight UCDC students attended October's Vice Presidential debate between Tim Kaine and Mike Pence in Farmville, VA. Thanks to C-SPAN's Steve Scully, who is teaching a course on media and elections this fall, the students -- accompanied by UCDC Executive Director Helen Shapiro, Associate Academic Director Marc Sandalow and Communications Specialist Cheriz Cajita -- each received "C-SPAN-UCDC'' press credentials, granting them access to the filing center as well as the debate hall itself. The students met multiple political and media personalities, including Reverend Jesse Jackson, Major Garrett of CBS News, and Bret Baier of Fox News, and after the debate posed with Kaine (above) for a group shot. 
See more photos. 
Where Are They Now?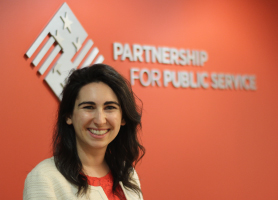 UCDC catches up with Brittney Vevaina, UC Berkeley '13. For more on Brittney, click on the picture above. For all UCDC alumni profiles, click for more.