Kathryn Sullivan at UCDC: First American Woman to Walk in Space
Kathryn Sullivan, A UC Santa Cruz alumna ('73) and the first American woman to walk in space received EAP's 2015 Linda Duttenhaver Distinguished Alumni Award at UCDC.
Sullivan, now Under Secretary of Commerce for Oceans and Atmosphere and NOAA Administrator, shared her experience of spending her junior year at the University of Bergen in Norway. Above she is pictured between UCDC Executive Director Helen Shapiro and EAP Director Jean-Xavier Guinard. Click here for more photos. For more on UCDC's weekly forums click
Where Are They Now?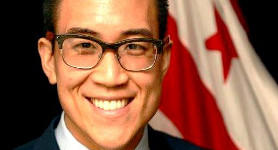 UCDC catches up with David Do (UC Merced '08). For more on David, click on the picture above. For all UCDC alumni profiles, click