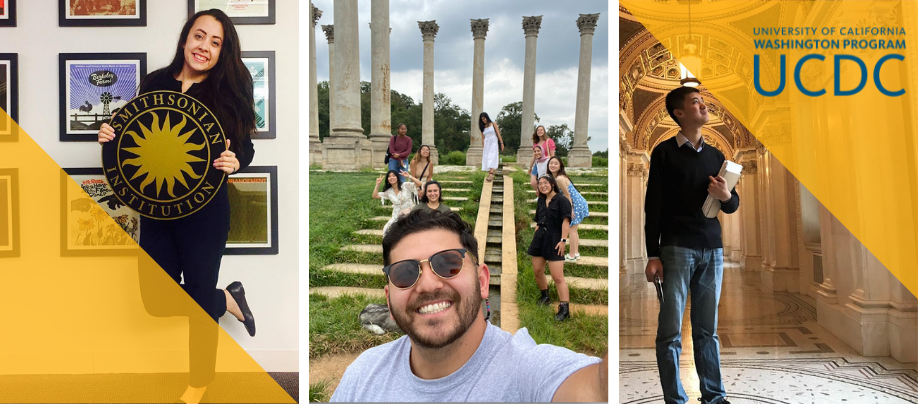 ---
Earn Credits in the Nation's Capital and Gain Valuable Work Experience

The University of California offers qualified students from all majors the opportunity to spend a term in Washington D.C.  Students combine an internship of their choosing with academic courses taught by visiting UC professors and accomplished Washington professionals. Participants receive a full term of course credit in addition to work experience and a front row seat to national policy making.

Students live at the UC Washington Center, an 11-story building located in the Dupont Circle neighborhood, about a five-minute walk from the White House. The center contains classrooms, faculty offices, and apartments for approximately 250 students from nine UC campuses as well as the University of San Francisco. 
UCDC Information Sessions happen the second tuesday of every month during the academic year. Registration is required to attend these virtual information sessions.



2023-24 Academic Year
| | |
| --- | --- |
| Upcoming Information Sessions | Time |
| Tuesday, September 12, 2023 | 11:00 AM (Pacific) / 2:00 PM (Eastern) |
| Tuesday, October 10, 2023 | 11:00 AM (Pacific) / 2:00 PM (Eastern) |
| Tuesday, November 14, 2023 | 11:00 AM (Pacific) / 2:00 PM (Eastern) |
| Tuesday, December 12, 2023 | 11:00 AM (Pacific) / 2:00 PM (Eastern) |
| Tuesday, January 9, 2024 | 11:00 AM (Pacific) / 2:00 PM (Eastern) |
| Tuesday, February 13, 2024 | 11:00 AM (Pacific) / 2:00 PM (Eastern) |
| Tuesday, March 12, 2024 | 11:00 AM (Pacific) / 2:00 PM (Eastern) |
| Tuesday, April 9, 2024 | 11:00 AM (Pacific) / 2:00 PM (Eastern) |
| Tuesday, May 14, 2024 | 11:00 AM (Pacific) / 2:00 PM (Eastern) |
Register for a UCDC Information Session here.
Want to Know More?
---
Academics

UCDC offers a wide range of courses for quarter and semester students, each designed to take advantage of the capital's vast resources.

Core Seminars. The centerpiece of the academic curriculum is a weekly research seminar aimed at putting the internship in a scholastic framework. Faculty are drawn from a roster of UC professors with particular policy expertise and local professionals ranging from policy analysts to journalists.

The core seminars meet once a week for three hours. Students typically take the day off from their internships on the day their seminar meets. Students are free to choose any seminar which best suits their interests or internship. Some seminars combine research with a focus on Congress, the Media, the Presidency, Elections, Bureaucracy, Sustainability or International Relations. Others focus on pure research and allow students to write an in-depth research paper on a topic of their choice. Depending on the seminar, students may share internship experiences, hold discussions on Washington policy, learn research techniques, take field trips to Washington landmarks, or participate in skill-building workshops.

Electives. UC Washington Center electives typically meet one evening a week. Courses are intended to reflect the capital's wide range of policy, history, science and arts. Recent offerings include courses on energy, foreign policy, lobbying, political media, theater and food.

For information on the current term's offerings see UCDC Course Descriptions.

"I have learned not to doubt my abilities because of my "lack of" experience. The current work one does in the classroom, though not formally "work" experience translates into the professional world–your perspective matters."

- Jayson Cayanan, UCSD
---
"You can do anything you want to whether it be government related, nonprofit, or private sector.  There are really limitless opportunities here" - Perry Yates, UC Irvine

Internships

Internships are the highlight of most students' Washington experience. Typically working three to four days a week, UC students have interned with members of Congress, the White House, cabinet agencies, advocacy groups, scientific organizations, public relation firms, museums, sports teams, television stations, think tanks, lobbyists, public health associations, political parties, and schools.

 Washington offers thousands of internship opportunities. In addition to the federal government, virtually all national advocacy groups maintain a headquarters or office in the capital.

Duties range from responding to constituent inquiries, researching legislation, assisting in laboratories and writing news stories.  Participants gain valuable work experience and firsthand exposure to the capital's policy and political process, and often leave with stories and acquaintances that last a lifetime.

Students are not assigned internships. Instead they work with program administrators in Washington and on campus to find a position that matches their interests and skills.
Want to Know More?
---
Financial Aid & Scholarships

Tuition is the same as remaining on campus and the cost of living in Washington is not much different than in California. However most students spend more money due to travel housing, new wardrobes and the enormous menu of temptations.

Your current financial aid package can be used to attend UCDC, and may be adjusted to reflect the added expenses. Additionally, scholarships are available to help bridge the gap between California and Washington.

 

"The fellowship provided me the opportunity to explore public service as a future career path. It gave me the support and training I needed to get the most out of my internship and prepared me with the tools to seek employment upon completion." - Guillermina Garcia
| | |
| --- | --- |
| | |
---
Living in DC

Washington is a lively city, with an endless array of museums, monuments, historical attractions, events, clubs, restaurant and proximity to other cities such as New York and Philadelphia.

Students will have the opportunity to live like Washingtonians, walking or taking public transportation to work. Students can eat at historic restauraunts such as Ben's Chili Bowl or grab a bite from one of the many stalls at Union Market. Famer's Markets with fresh foods can be found at all four quandrants year-long. In the spring, students can walk along the Tidal Basin and revel in the Cherry Blossoms. 

Enjoy theatre? Students can attend a performance at the Kenndy Center or one of the several acclaimed regional theatres. They can even see their favorite musician -- or discover someone new -- at concert venues like The Anthem.

Sports fans can rejoice as they enter the District of Champions, home to Washington Nationals, Capitals, Mystics, Wizards, and more. 

"I planned protests and called activists across the country through my internship with Public Citizen, attended protests for women's rights and racial justice, met many key political figures, networked with folks, explored a city with so much history and its surroundings (Philly, Baltimore, and NYC), and met awesome friends along the way."

--Sebastian Anguilar Tinajero, UCLA 
| | | |
| --- | --- | --- |
|   | |   |
---
UCDC Center

The Washington Center is centrally located in a vibrant and safe neighborhood. It is within steps of public transportation, historical monuments, museums, restaurants, theater, and nightlife.

Students are able to take advantage of a variety of activities offered through the UC Center, such as tours of the State Department, White House and Pentagon, as well as trips to Philadelphia and Gettysburg.
---
Annual Security and Fire Safety Report
The report contains information regarding campus safety and security including topics such as: campus law enforcement authority; crime reporting policies; campus alerts (Timely Warnings and Emergency Notifications); fire safety policies and procedures; programs to prevent dating violence, domestic violence, sexual assault and stalking; the procedures UCDC will follow when one of these crimes is reported; and other matters of importance related to security on campus. The report also contains information about crime statistics for the three most recent calendar years concerning reported crimes that occurred on campus; in On-Campus Student Housing Facilities; in Noncampus buildings or property owned or controlled by UCDC or a recognized student organization; and on public property within, or immediately adjacent to and accessible from, the campus. The report also contains fire statistics for any fires occurring in UCDC's On-Campus Student Housing Facility (the UC Washington Center) during the three most recent calendar years. 
A paper copy of the report will be provided upon request. If you would like to receive a paper copy, you can stop by the Residential Life Office in Room 413 (located at 1608 Rhode Island Avenue, NW Washington, DC, 20036) or you can request that a copy be mailed to you by calling (202) 974-6216 or emailing
studentservices@ucdc.edu
. 
---
How To Apply
Application procedures and deadlines vary campus to campus. To apply to UCDC, please visit your campus UCDC web page or representative.