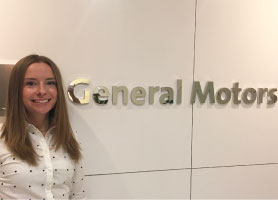 Chantelle Tolliver: UC Santa Barbara '11, UCDC Spring '11
1. Tell us what you do:
I am Chief of Staff for General Motors' North American public policy team. Our group works with federal, state and local governments on policy issues that impact the company. Every day at my job is different - the role allows me to work with GM teams and other organizations across the country on a variety of projects. The job is a great fit for someone who loves working with people, problem solving and wants to develop a broad base of knowledge about what makes an organization tick. 
2. What made you want to return to Washington after graduation? 
I was offered a job in former Santa Barbara area Congresswoman Lois Capps' office after graduation. I had a wonderful internship experience in her Capitol office during UCDC and in her district office when I returned to UCSB, so I jumped at the opportunity to move to DC and continue working with her team. To be honest, I hadn't considered coming back to DC immediately following UCDC (my life was in CA!) but since moving here in 2011, I haven't looked back! It is truly an amazing place to live and work as a young professional. 
3. What did you learn during your term in Washington that helped you in your career?
The importance of developing a solid professional (and personal) network. I secured both of my positions in DC through connections I made early in my career. This network has also helped me find apartments, side gigs and friends. Even if you aren't planning on staying in DC, it is always worth the time to make these connections—you never know where they may lead! 
4. What's your favorite UCDC memory?
My twenty-second birthday was just days after I arrived at UCDC, so I hadn't planned on doing much. My brand new roommates surprised me with dinner, gifts and a night out—I was so touched by their thoughtfulness. Our group is still close, despite us living all over the country now. Over the last seven years, we've reunited in DC countless times, been part of each other's big life events and have tormented each other with a never-ending text chain. UCDC gave me friends for life! 
For all UCDC alumni profiles, click for more.