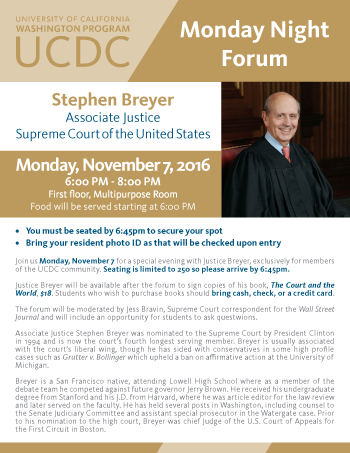 Stephen Breyer, Associate Justice of the Supreme Court of the United States
Monday, November 7, 2016
First Floor, Multipurpose Room - seating is limited to 250
6:00pm – 8:00pm
Food will be served starting at 6:00pm
- To secure your spot, you must be seated by 6:45pm
- Bring your resident photo ID as that will be checked upon entry. Once you enter the room you will not be allowed to leave until the program is finished.
Join us Monday, November 7 for a special evening with Justice Breyer, exclusively for members of the UCDC community. Seating is limited to 250 so please arrive by 6:45pm.
Justice Breyer will be available after the forum to sign copies of his book, The Court and the World, $18. Students who wish to purchase books should bring cash, check, or credit cards.
Associate Justice Stephen Breyer was nominated to the Supreme Court by President Clinton in 1994 and is now the court's fourth longest serving member. Breyer is usually associated with the court's liberal wing, though he has sided with conservatives in some high profile cases such as Grutter v. Bollinger which upheld a ban on affirmative action at the University of Michigan.
Breyer is a San Francisco native, attending Lowell High School where as a member of the debate team he competed against future governor Jerry Brown. He received his undergraduate degree from Stanford and his J.D. from Harvard, where he was article editor for the law review and later served on the faculty. He has held several posts in Washington, including as counsel to the Senate Judiciary Committee and assistant special prosecutor in the Watergate case. Prior to his nomination to the high court, Breyer was chief Judge of the U.S. Court of Appeals for the First Circuit in Boston.
Date:
Monday, November 7, 2016 - 6:00pm

to

Tuesday, November 8, 2016 - 7:45pm