Events
Monday, November 23, 2015 -
Monday, November 30, 2015 -
Justice Kagan Holds Court for UCDC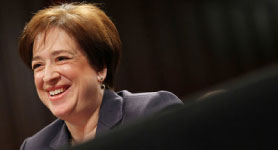 Justice Elena Kagan provided UCDC students a behind-the-scenes look at the Supreme Court at a special Monday Night Forum held in the court's chamber. Kagan -- at times professorial, at times playful -- told students that despite Washington's partisan reputation, justices are not as ideologically polarized as they are portrayed and that they share close personal friendships (she revealed she goes hunting  with Justice Antonin Scalia several times a year.) Kagan advised students against setting their sights on becoming a Supreme Court Justice, telling them landing a job on the high court is "98% luck.''
The event -- moderated by Wall Street Journal Supreme Court Reporter Jess Bravin -- marked the fifth time that a Supreme Court Justice has addressed UCDC students. Justices Stephen Breyer, Antonin Scalia, Anthony Kennedy and Ruth Bader Ginsburg have each visited UCDC. Justice Samuel Alito is expected in Fall 2016. 
For more on UCDC's weekly forums click here.
Where Are They Now?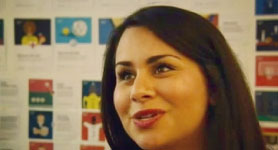 UCDC catches up with Roya Soleimani (UC Berkeley '07). For more on Roya, click on the picture above. For all UCDC alumni profiles, click for more.