Photo of the Week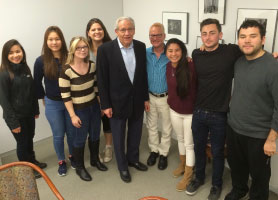 An incredible opportunity to tour the Washington Post and meet the legendary reporter Bob Woodward (of the Watergate scandal) with the D.C. on Film class!
Kaycey Bui, UC Davis
Click to view more photos.
Student Spotlight: Enid Ocegueda, UCR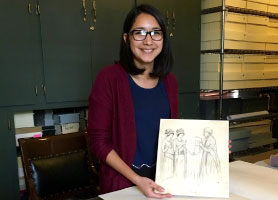 Enid Ocegueda interns at the Sewall-Belmont House and Museum, which was recently designated as a national monument by President Obama. As collections assistant, she catalogs items for exhibitions, assists with the digitization of the National Woman's Party photograph collection, and conducts outreach for the Equal Rights magazine Redistribution Project to promote women's history scholarship. Enid will be graduating with a history major from UC Riverside this June.
"The great thing about working with collections is going to work and not knowing what to expect. From handling Nina Allender's (official cartoonist of the National Woman's Party from 1914 to 1927) Political Cartoon Collection to working with the NWP's amazing photo collection, this internship has facilitated my love for history, museums, and archives, while emphasizing the importance of women's history. Having the opportunity to work with such knowledgeable people has made this experience well worth it."
Enid holds one of Nina Allender's political cartoons, titled: "Susan B. Anthony to the women of today. 'Everything but the vote is still to be won.'" - Feb. 24, 1923
Read about more students here. 
Where Are They Now?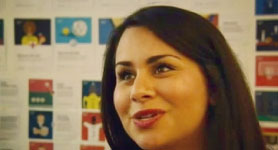 UCDC catches up with Roya Soleimani (UC Berkeley '07). For more on Roya, click on the picture above. For all UCDC alumni profiles, click for more.