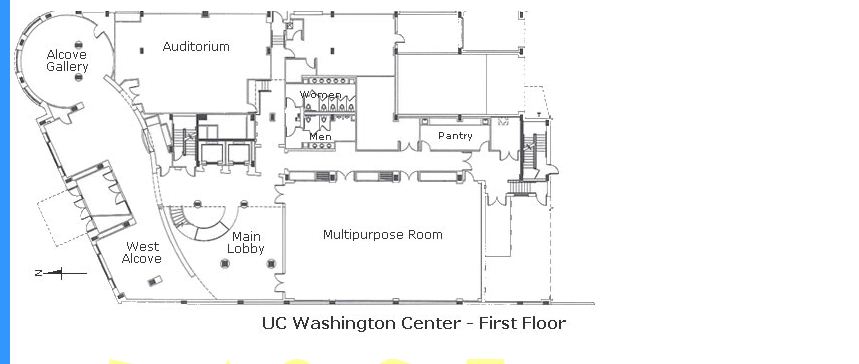 The UC Washington Center is an ideal venue to hold your next lunch symposium, week long conference or evening reception. The Center has over 6,000 feet of meeting space and is located in the heart of downtown, near 2 metro/bus lines and a short walk from Dupont Circle and the White House.
The UC Washington Center strives to provide an atmosphere that will exemplify its unique standing as a live-learn facility of the University in our nation's capitol. The expectation is that events at the Center will enhance the missions of the University of California and provide the UC and greater academic, government and policy communities with a forum in which to host their activities.
Book your next event with us! Email Janou.Gordon@ucdc.edu for more information.
Booking Procedure
Check availability on our calendar.
Please contact janou.gordon@ucdc.edu to place a hold on space for your event or for answers to any questions not covered on our site.
Event Parking
UCDC does not provide on-site parking for visitors.  
Local Parking Service: Colonial Parking 1730 Rhode Island Ave NW  Washington, DC 20036. Telephone: 202.295.7074
Audiovisual
Audiovisual services are included in your rental rate and include the following:

LCD projector and screen

Podium console with computer and microphone 

Wireless microphones and lavaliers
Frequently Asked Questions
What is the maximum capacity?
Room ABC with 230 people in theater style (rows of chairs)
Do you provide on site catering?

No. You are free to use any catering company you would like. 
Feel free to contact Janou Gordon for a list of reccommended catering services
Do you provide table linens?

No, but most catering companies will provide linens upon request
What are the options for room set up?

Theater style (rows of chairs), round tables, or rectangular tables
 
Room

Dimensions

Area (Sq. Ft.)

Seating

A/V

Theater

Classroom (Rect. Tables)

Banquet

(Rounds)

A, B & C

64 x 41

2,600

225

88

114

Yes

A

15 x 41

615

45

20

24

Yes

B

21 x 41

860

75

30

36

Yes

C

28 x 41

1,125

95

36

54

Yes

A & B

36 x 41

1,475

140

52

60

Yes

B & C

1,985

1,985

160

68

90

Yes