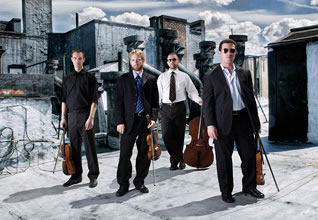 On Sunday, June 3 at 6:30 PM the internationally acclaimed JACK Quartet will perform works by UCSD faculty and Pulitizer Prize winning composer Roger Reynolds and student composers from the University of California, Washington Center at the National Gallery of Art. This is the culmination of weeks of work by UCDC students participating in the 1st All-UC Music Composition program and part of the Spring '12 Arts Quarter at UCDC.
The JACK Quartet electrifies audiences worldwide with "explosive virtuosity" (Boston Globe) and "viscerally exciting performances" (New York Times). David Patrick Stearns (Philadelphia Inquirer) proclaimed their performance as being "among the most stimulating new-music concerts of my experience." The Washington Post commented, "The string quartet may be a 250-year-old contraption, but young, brilliant groups like the JACK Quartet are keeping it thrillingly vital." Alex Ross (New Yorker) hailed their performance of Iannis Xenakis' complete string quartets as being "exceptional" and "beautifully harsh," and Mark Swed (Los Angeles Times) called their sold-out performances of Georg Friedrich Haas' String Quartet No. 3 In iij. Noct. "mind-blowingly good."
The members of the quartet met while attending the Eastman School of Music. The group comprises violinists Christopher Otto and Ari Streisfeld, violist John Pickford Richards, and cellist Kevin McFarland.
This event is part of the National Gallery of Art's 70th Season of Concerts 2011-2012 and is sponsored by the University of California, Washington Center.